At RecruiterCentral, wanting more diversity in their employee population is a common goal of our clients. We are constantly getting asked about which diversity recruiting tools, methods, techniques, and trends can give them the competitive advantage they are seeking. While our team at RecruiterCentral consistently delivers the most diverse candidate pool in the market with our recruiting services, we're also happy to share some of the tools we use to help get these candidates. This week we share a number of our favorite diversity recruiting tools.
Tool #1 Our Favorite Diversity Sourcing Platform
It is a TIE for the best diversity sourcing tool between Entelo Diversity and Seekout Diversity.
I've been a big fan of Entelo since Jon Bischke founded it in 2010. Entelo software is a platform used by recruiters and hiring managers to find potential employees. If your recruiting team proactively sources talent for your organization, Entelo is a must review platform and continues to be an industry leader. Entelo offers an innovative diversity recruiting tool function that has unique features and tools that consistently have it delivering the best and most diverse candidates on the market. Many on our team at RecruiterCentral have been using it as a diversity recruiting tool for years.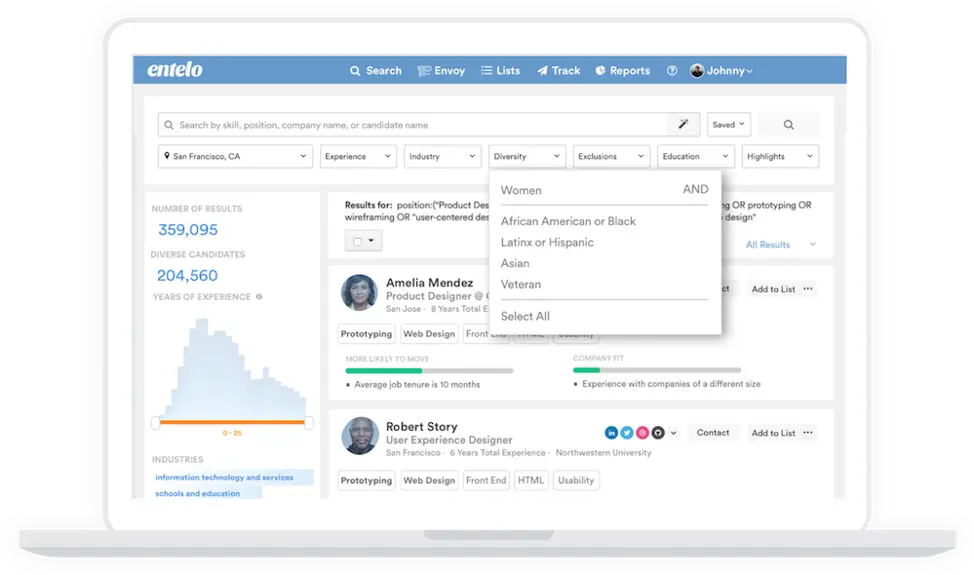 Entelo diversity offers:
Discover diverse talent in minutes by surfacing top candidates from under-represented groups based on gender, race, ethnicity, and veteran status, and recruit a strong, diverse and innovative team.
Eradicate unconscious bias with Entelo's unbiased sourcing mode which anonymize candidate information commonly associated with different forms of bias.
Quickly identify candidates from underrepresented groups with candidate badges highlighting the rich dimensions of diversity.
Easily collaborate with hiring managers and advance diversity initiatives
Gain visibility into your organization's diversity sourcing efforts and measure progress.
If your company even has a modest recruiting budget and haven't yet taken a look at Entelo, there'a a lot that can be learned by seeing what a leading platform can offer. I highly suggest starting by requesting a demo.
Seekout has a catchy claim "your competitive edge for tech and diversity hiring". It's a recruiter-friendly recruiting platform for sourcing passive candidates with diversity filters that has special features such as one click contact info and easy bulk exports. "SeekOut's comprehensive database gives users a 360-degree view of talent you can't find anywhere else. Our industry leading search and AI-powered features like the SeekOut Robot help you land the right candidate fast. Get verified email addresses and social profiles for candidates with the click of a button. Reach out to candidates with personalized messages using SeekOut automated email campaigns."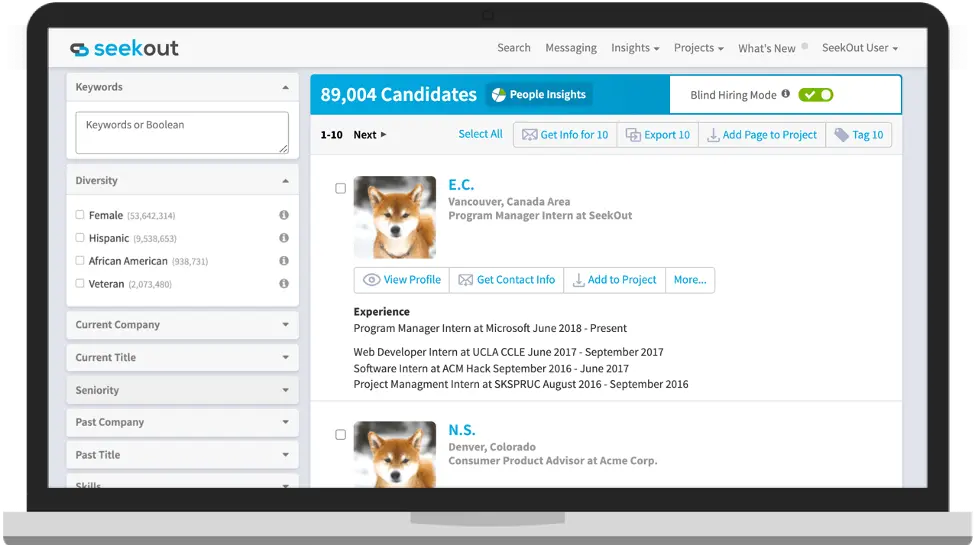 Seekout diversity offers:
Diversity filters for female, Hispanic, African American, and veteran.
Remove unconscious bias while sourcing with Blind Hiring Mode.
Ensure you source for the experience and skills that matter by hiding information that could reveal a candidate's gender, race or ethnicity.
SeekOut People Insights for candidate availability, where candidates work, and your current company's diversity
We give a slight advantage to Seekout for technology talent as they have a better way to source open source repositories like Github. The email campaign, once you get over the hurtle of setting up, is easy to use, integrates with most email platforms helps you organize and track those outreaches to get a high candidate response and excellent candidate experience. It's a paid only service but reasonable compared to LinkedIn recruiter. In my experiences, they also have excellent customer service. Request a demo for more information on Seekout's diversity recruiting tools.
Tool #2 Best Tool for Writing a Non-bias Job Description
Textio is an augmented writing tool, which means it can predict the results you'll get as you write your job description based on real-time data it collects through its AI system. So this means that their machine is always learning, and the more you write, the more it learns and gives better results.
"Augmented writing is fueled by massive quantities of data, contributed by companies across industries and around the world. Textio's predictive engine uses this data to uncover meaningful patterns in language, guiding you to stronger communication and better business outcomes."
They claim that you can reach a wider pool of people and fill jobs faster based on the language you use in your job descriptions.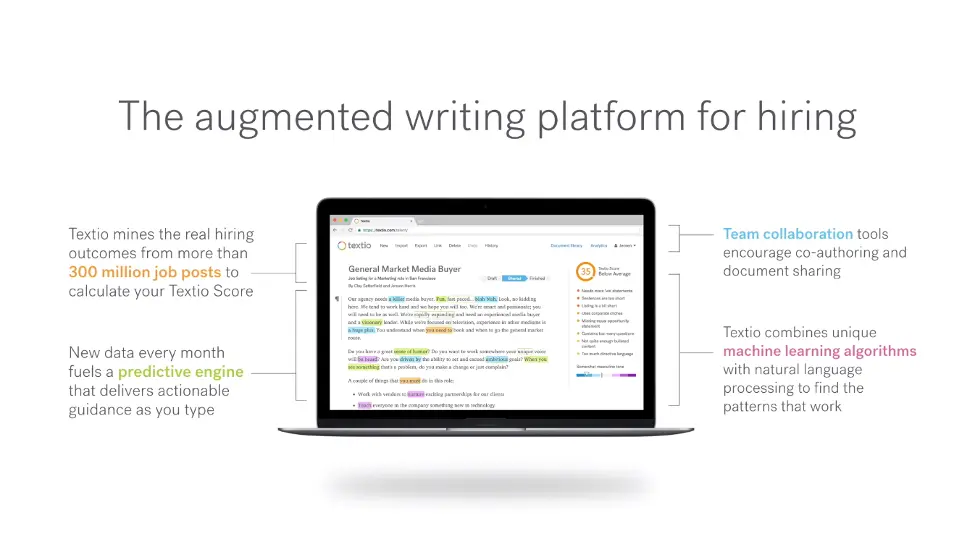 Here is how it works: You can either copy and paste an existing job description or start writing a new one from scratch. The tool will scan your words and show you a score to the right. This score predicts how well your ad will perform based on your description and how fast the position will be filled compared to others in the same industry and location. They say to aim for a score of 90 and higher.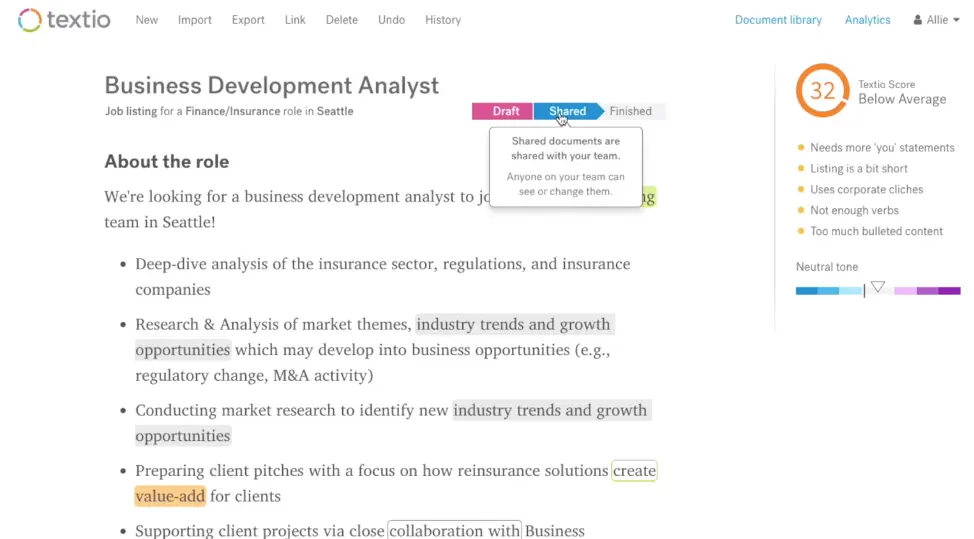 It shows you in blue the words or phrases that are more masculine-coded. And the words or phrases in purple are more feminine-coded words or phrases. It also shows you the tone of your job description on the right-hand side. The further to the left is blue for masculine and further to the right is purple for feminine. The gray area is the middle where you want to be for gender-neutral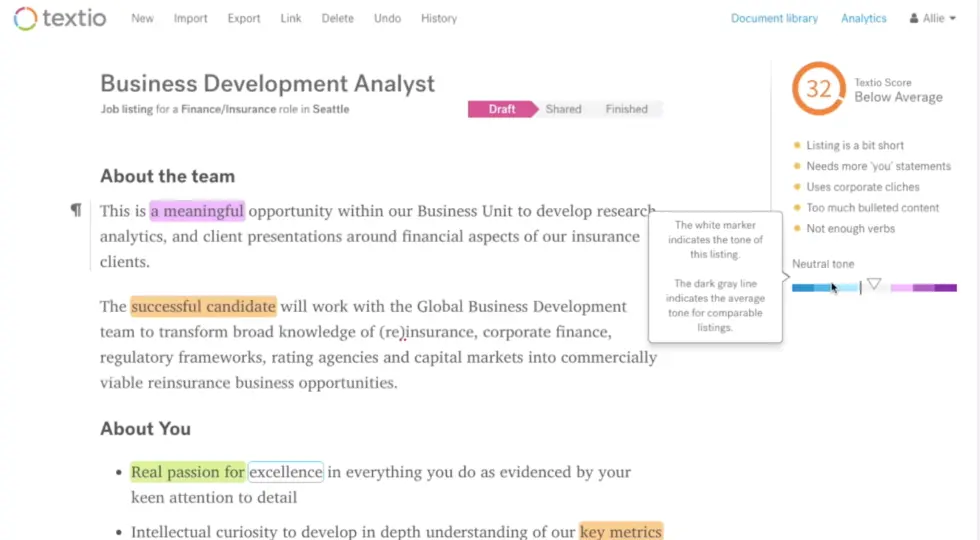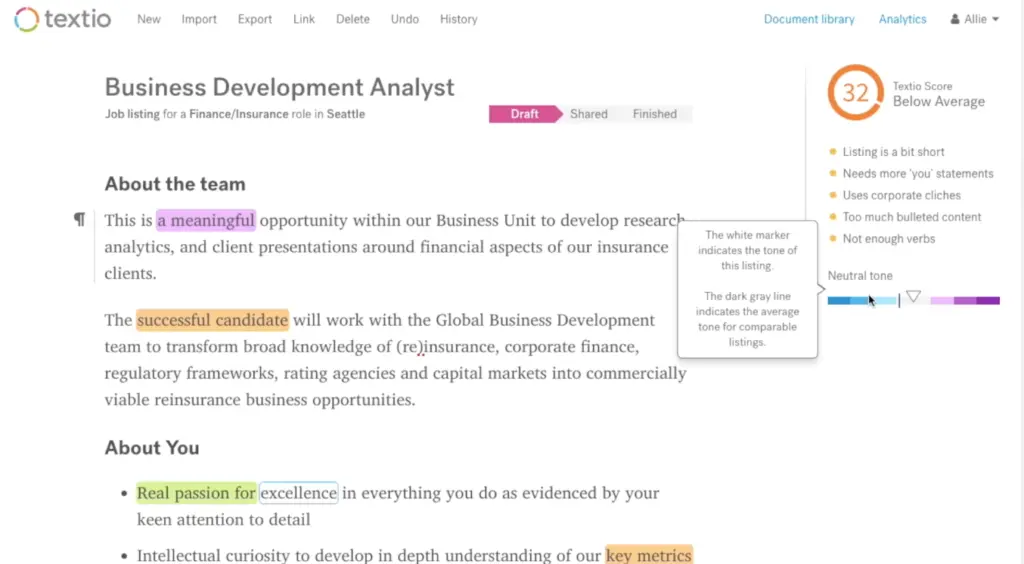 Click here for a product demo or to read more about this tool and other tools to write non-bias job descriptions, see our other post.
Tool #3 Best Research for Developing Diversity Boolean strings for Diversity Recruiting Tools
Glen Cathy's Boolean Black Belt post on Diversity Sourcing: Boolean Search Strings for LinkedIn
Glen has always been one of my sourcing heros and I've been following his blog and conference presentations for over a decade.
If you really want to nerd out and become a Boolean search string expert, you HAVE TO know about Glen. In one of his most popular posts, he breaks down all the elements of an effective diversity-focused search string. The interesting thing is that his post is from 2012 but it still holds true to today. Here's a little taste: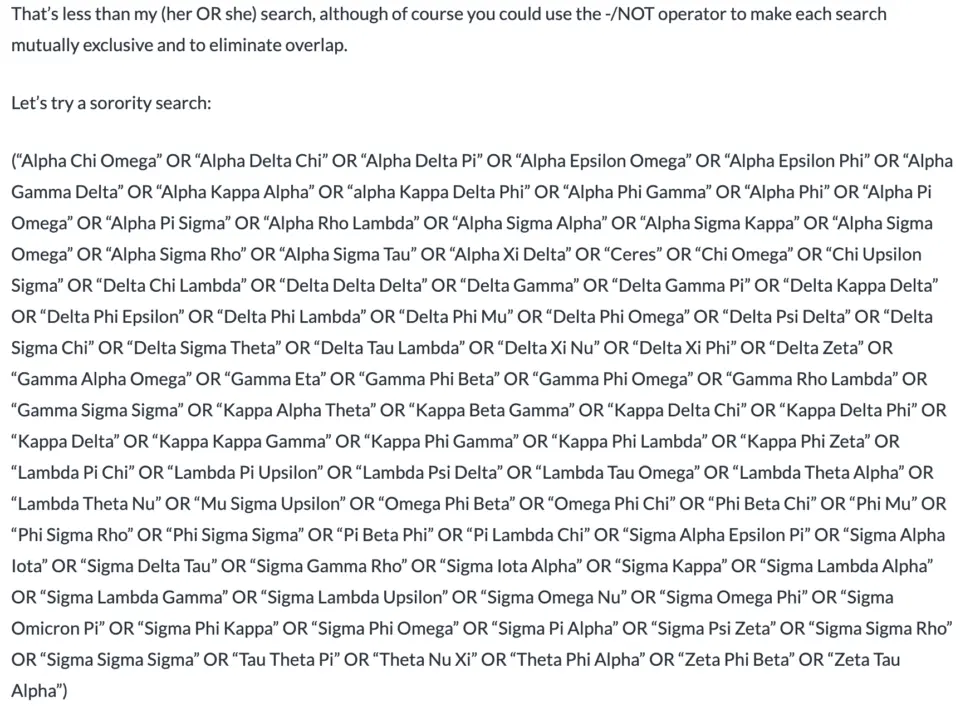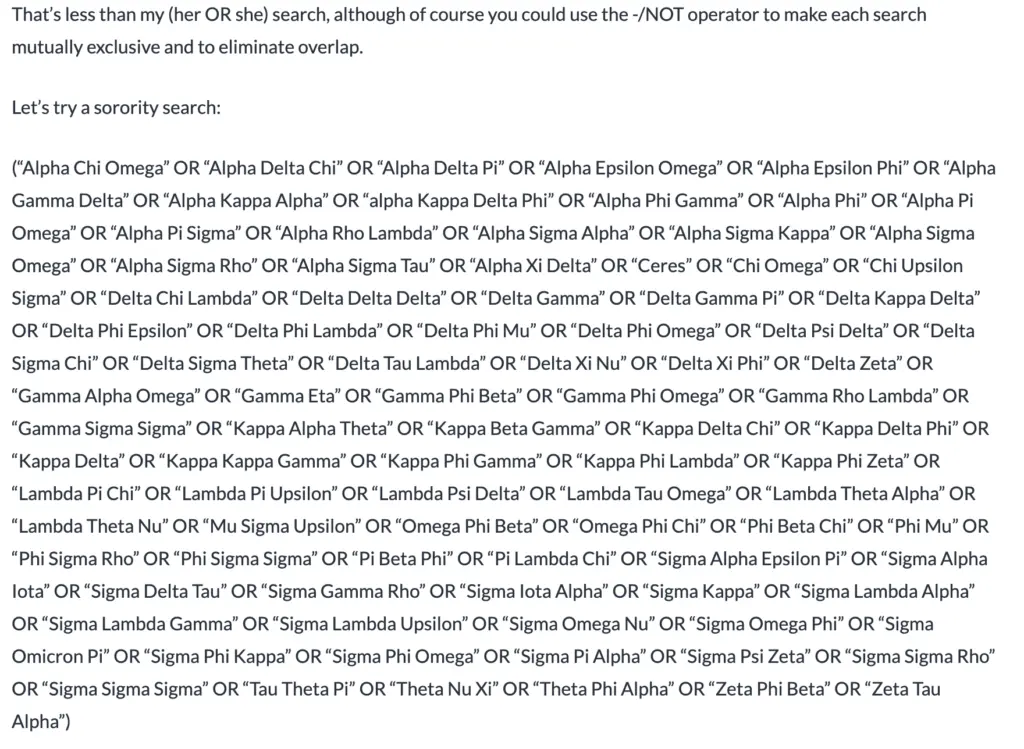 Tool #4 Best Publication for Diversity
Forbes list for Diversity is a newer list only in its third year in 2020, but it's their methodology, partnering with market research firm Statista to highlight America's best employers for diversity that makes them stand out.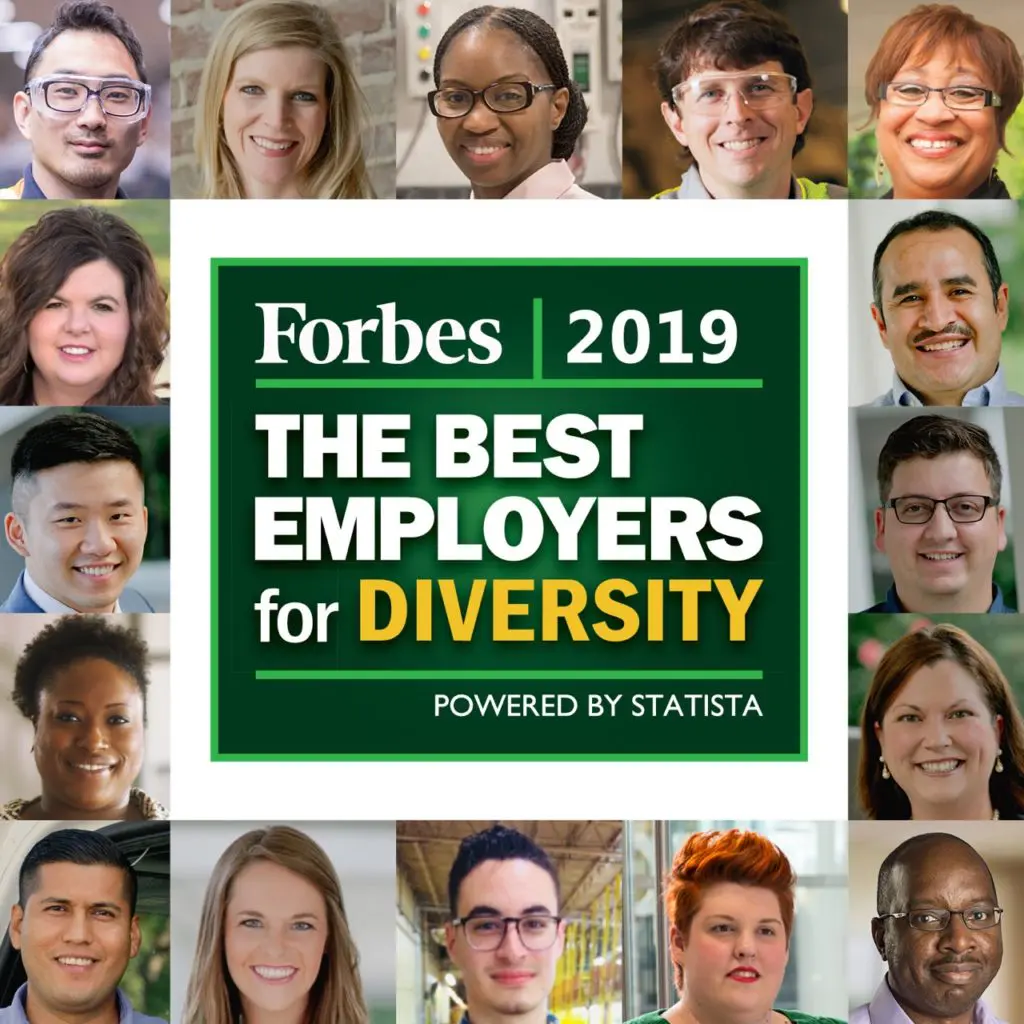 Methodology
"To determine the list, Forbes surveyed 50,000 Americans working for businesses with at least 1,000 employees. All the surveys were anonymous, allowing participants to openly share their opinions. Respondents were first asked to rate their organizations on criteria such as age, gender, ethnicity, disability and sexual orientation equality, as well as that of general diversity. These responses were reviewed for potential diversity gaps. So if workers from minority groups, for example, rated an organization poorly on diversity, but nonminority groups rated it highly, Statista would take that into account and adjust the company's score accordingly. Statista then asked respondents belonging to minority groups to nominate organizations other than their own. The final list ranks the 500 employers that not only received the most recommendations but also boast the most diverse boards and executive ranks and the most proactive diversity and inclusion initiatives."
We always keep an eye on who makes the list and listen to their stories, their strategies, and best practices. These companies are a treasure trove of best in class talent.
Other excellent resources for diversity recruiting include: