In a previous blog, we discussed the shortage of manual labor workers and advised on how to retain and hire blue-collar talent. Now in this blog, we'll discuss how to use Facebook as a sourcing tool to source blue-collar workers find the right candidates.
Most recruiters may feel more comfortable on LinkedIn and are very active, however, many blue-collar workers are not on this platform. While LinkedIn has become a main hub for white-collar professionals, we don't necessarily think of manual laborers being part of this social network.
That's why Facebook joined the recruiting party and launched their own job platform a couple of years ago, partnering with ZipRecruiter. Many speculated that this effort was to attract low-skilled and blue-collar workers that would most likely not have a LinkedIn profile. Facebook has stated that, "…some 60 percent of new jobs are created by local businesses" on their job dashboard.
With over 2.38 billion active users every month, this social media giant should definitely be at the top of recruiters' minds when they are searching for job talent, especially as they attempt to fill blue-collar positions. According to Facebook's VP of Local Alex Himel, "One in four people in the U.S. have searched for or found a job using Facebook."
6 Ways to Use Facebook to Source Blue-Collar Workers
Facebook is a much different platform than LinkedIn when it comes to job recruiting. People are more personal and private on Facebook and usually don't think about being contacted by recruiters about job opportunities from this website. Therefore, you must be strategic on how you're searching for talent and contacting them.
1. Basic Search Bar
The most basic approach is to use Facebook's search bar. Recruiters may be used to using Boolean when typing in searches, but for this network, you just need to use natural language queries as you search. You can type in the position name, location, and any other skills you're seeking from individuals to narrow your hunt and find a list of candidates to qualify.
Once you have your list of candidates, you can begin contacting them by adding them as a friend then reaching out, or sending them a private message over Messenger. (See #6 below to learn more about using this direct messenger.)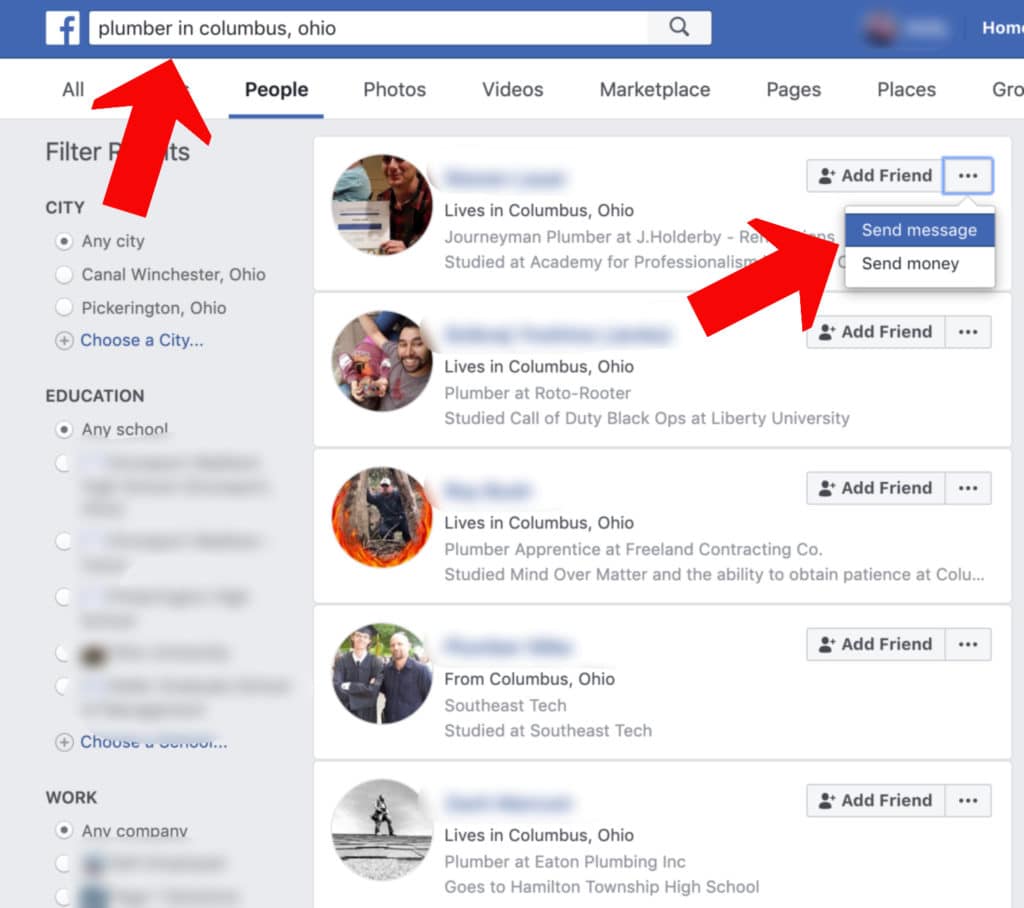 Keep in mind that every user's Facebook Graph will be different when they conduct searches, so results will vary from person-to-person.
Pro tip: Invite members of your recruiting team or other co-workers to help search for specific jobs and share potential candidates between the group. Create a "source party" to widen your reach and results.
2. Jobs Tab on Business Pages
Now, employers and recruiters can post job openings to the Jobs tab on the side of their Facebook Page for a fee. These openings will then be shown on their page, on the jobs dashboard, on Facebook Marketplace and for some users, in their News Feed.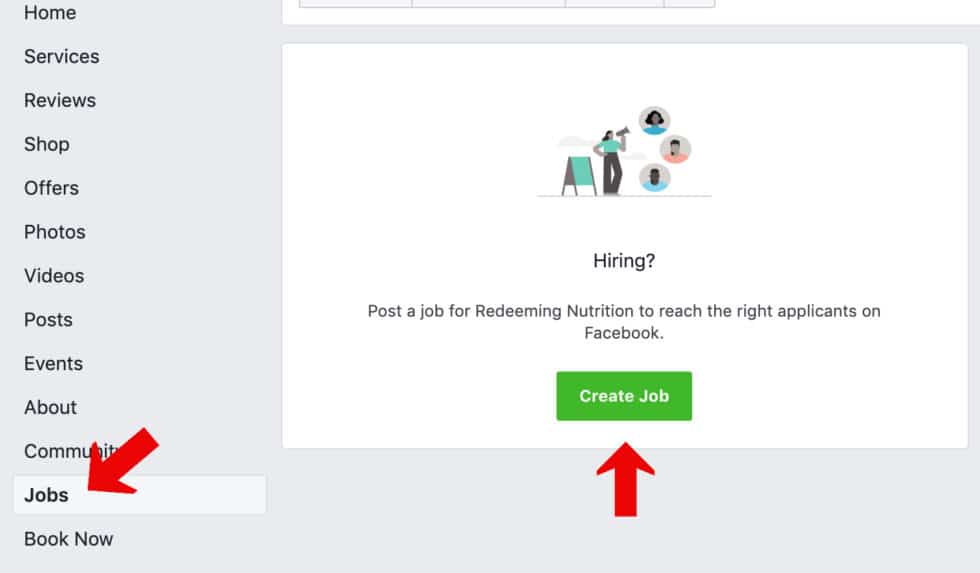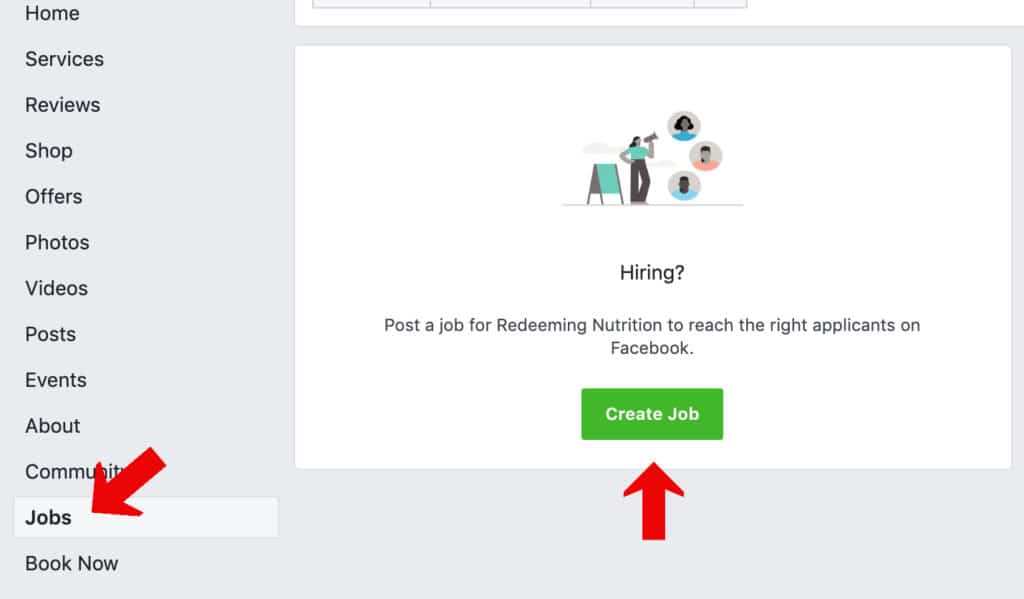 When you click "Create Job," a box will pop up that you fill out with all the details of the job.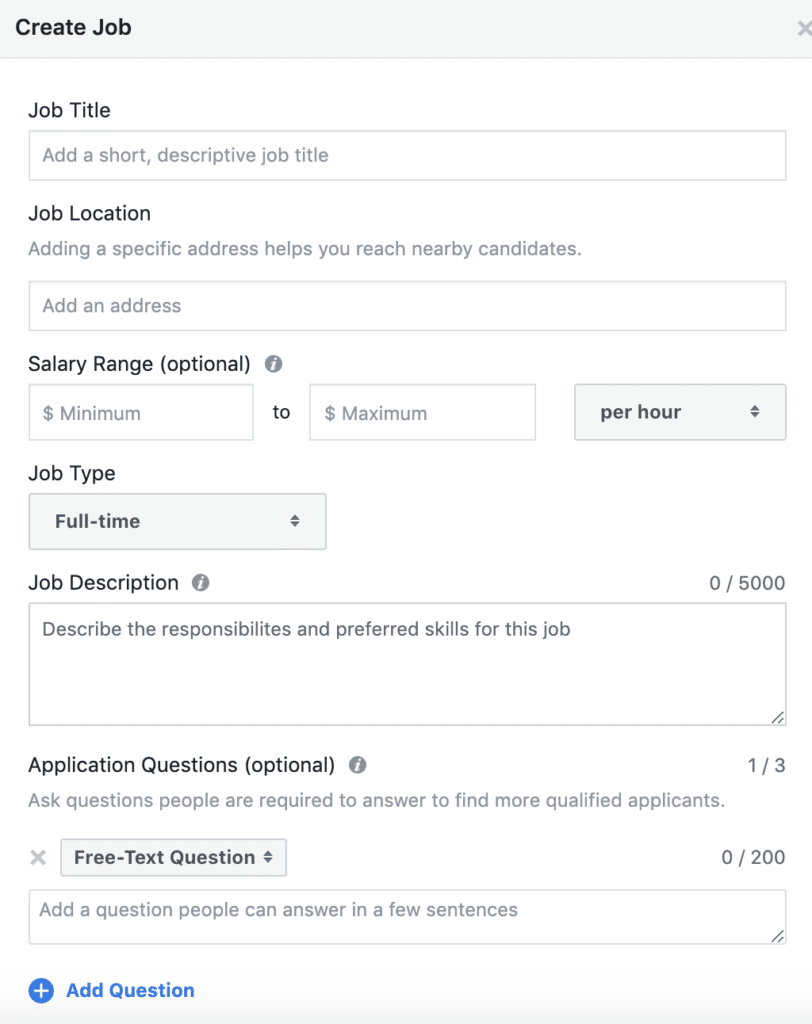 You can watch a brief video demo here.
3. Post Directly on Jobs on Facebook
"Jobs on Facebook" caters naturally more toward small businesses, the trades, and low-skilled labor. Through this site, job seekers can explore openings, auto-fill applications with profile information including job history, edit and submit applications, and schedule interviews through Facebook Messenger.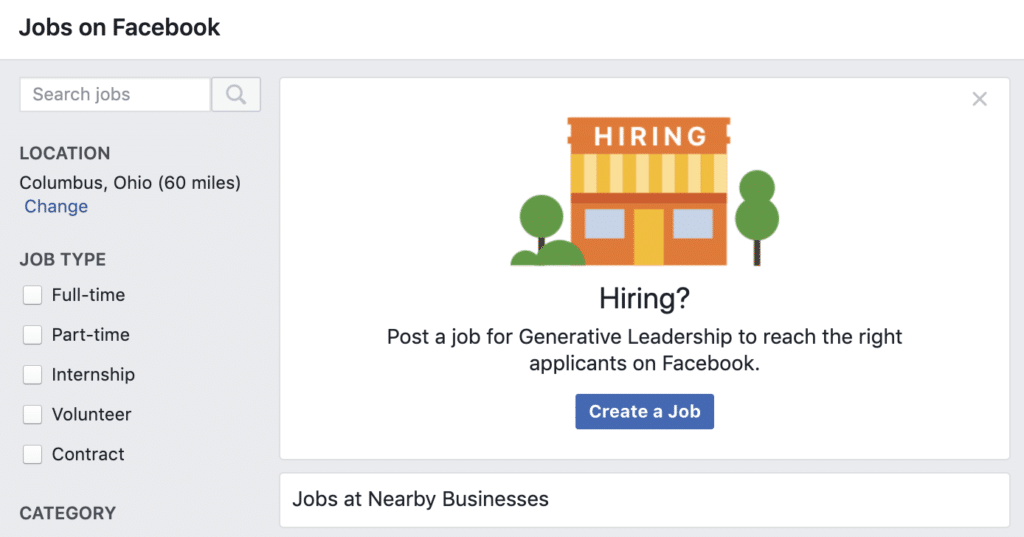 In order to post here, you must have a business page to connect the job posting to, and then applications go to the owner's Facebook Messenger and recruiters can also get notified via email. The only downfall is that the candidate's data is based on their Facebook About information and cannot be exported.
4. Promote through Facebook Groups
There is a lot of potential to source blue-collar workers for free when you join Facebook Groups. These are like mini job boards that people create and tag each other in when they see available jobs. Depending on if they are open to join or closed or private groups, you will need to ask to join and maybe answer a few questions. But once you're inside these groups, it'll be like you struck gold!
Just search for what you're looking for, such as "plumber jobs" or "Ohio plumbers" and the like, and join multiple Facebook Groups. But be sure to adhere to each group's rules and guidelines set by their administrators.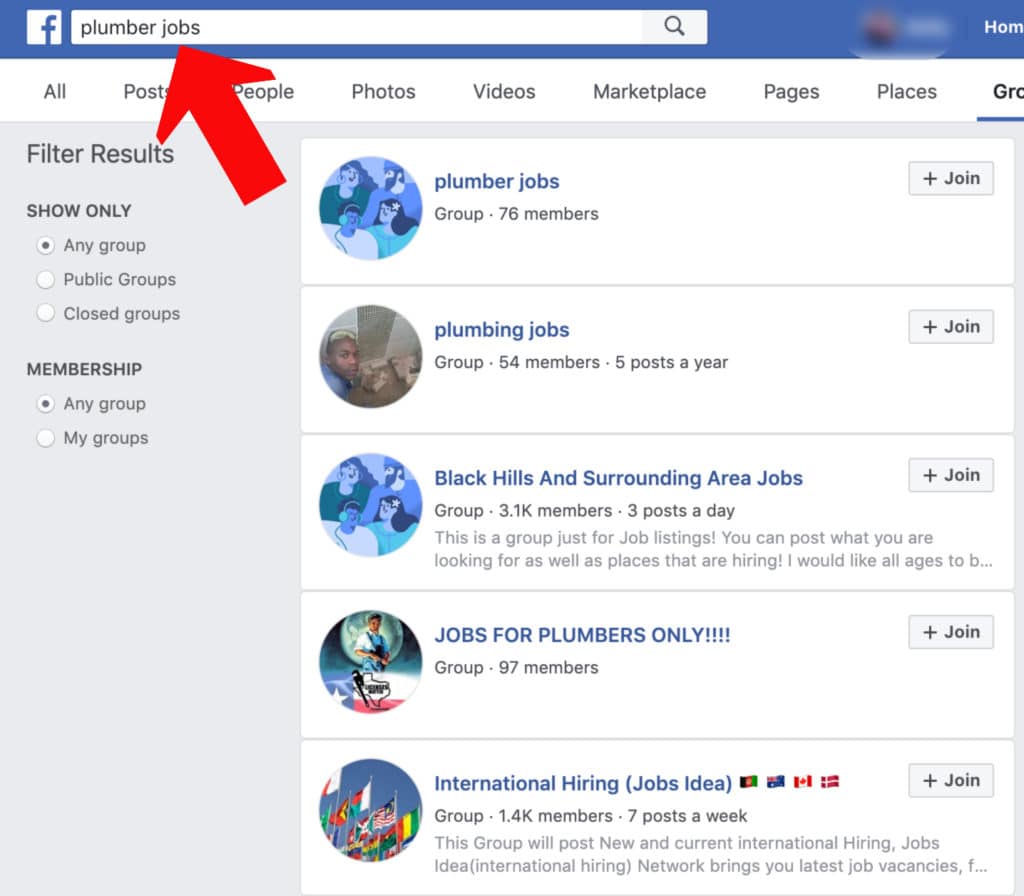 5. Use Facebook Live
Recruiters and employers can go live and announce job openings, hold Q&A sessions to answer questions about jobs, and schedule weekly or monthly career chats. Even if no one joins live, these videos will be posted on business pages and people can watch the recordings later.
6. Communicate via Facebook Messaging
Reaching out privately to people on Facebook Messenger may give you an advantage for better communication. However, know that if you're not connected as friends with someone, your message will go to their Message Requests, which they do not get notified when a message is sitting there.
Therefore, it's best advised to connect and become friends with candidates first so that your messages will be delivered straight to their messages inbox, and if they have the Messenger app, it will also be delivered there.
Once you start communicating with an individual, you can choose to conduct business as usual and send them the same messages that you would use in LinkedIn's InMail, or you can acknowledge that it may be a little odd to be contacted via Facebook about a job and move the conversations to email or phone. However, whichever path you choose, keep in mind that you're trying to build trust and a relationship with this person. Make sure you think through your messaging before you send it to them. You don't want to come across as too aggressive and scare them off.
Here are some more helpful blogs we've posted about using alternative sourcing tools:
Resources: