At RecruiterCentral, we often get asked about our favorite recruiting CRMs. Our team has worked as recruiters both in-house for fortune 500 companies and on the agency side. We have had the experience of sampling and using a number of the leading recruiting platforms on the market today. This week we share are our top 5 favorite 2021 recruiting CRMs for talent sourcers and recruiters to consider for sourcing, recording, tracking, marketing and untimely hire the best talent.
TalentLyft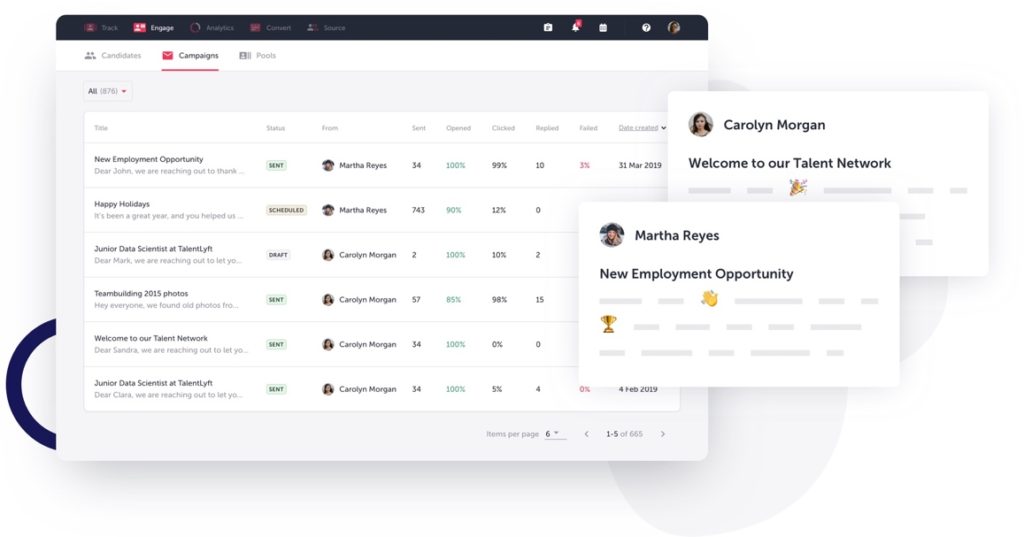 Their claim: One tool. TalentLyft offers everything you need to hire top talent. Applicant Tracking, Recruitment Marketing, Sourcing and Talent CRM software are powerful alone, but are a unstoppable Recruiting CRM when used together!
For the price, this is one of our favorites.
Distributes job openings to multiple free and premium job boards with one-click.
Gives recruiters visual scorecards so they can see how well a candidate is suited to a role based on their skillset once they apply.
Automatically enriches candidate profiles.
Schedules interviews and offers email automation to keep candidates interested in positions once they apply.
We were pleasantly surprised with this tool and love their "omni-channel recruiting approach". TalentLyft elevates that traditional CRM many times over by interacting with job boards, almost all relevant social media platforms, manages professional referral and candidate sourcing. Our prediction is that you are going to be hearing a lot more about this tool.
Price: Starts at $99/month for 5 active jobs.
Beamery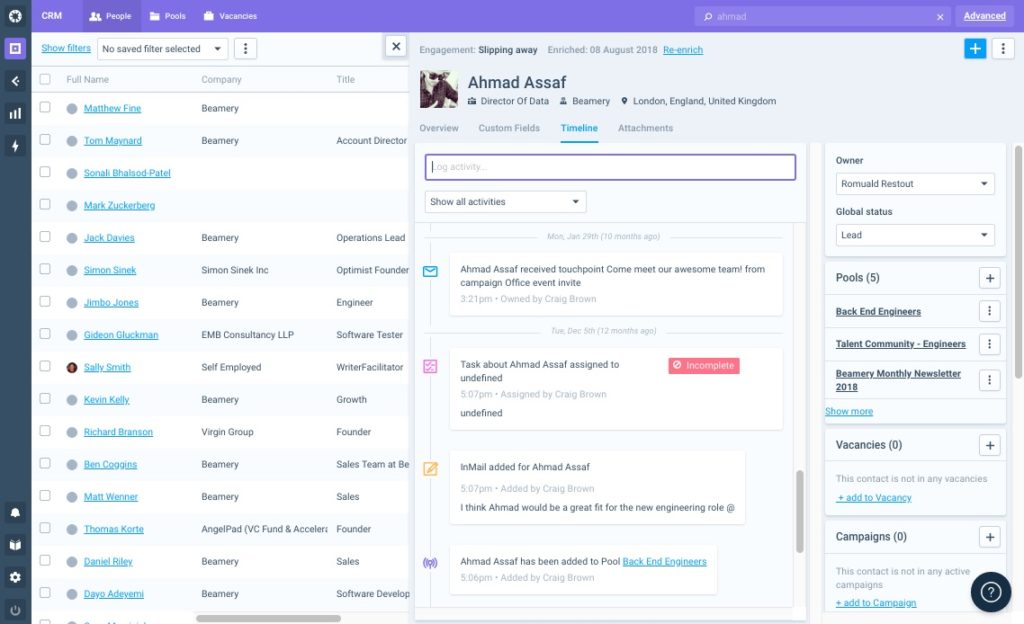 Their claim: Attract, engage, and retain world class talent, power best in class candidate experiences, and manage the entire journey with one platform.
We love Beamery because it feels like it was built for sourcers all into a single platform. The recruitment CRM helps companies run their whole sourcing organization on a single platform.
Resume parsing and de-duplicating tool
Uses multiple sources to attract candidates.
Tools to source candidates directly from web-pages, social media, as well as import existing sourcing lists.
Build pipelines
Easy to navigate, share candidates, take notes and share data
Beamery tends to have more tools to focus on the candidate experience and building your employment brand. Additionally there are also several data and assessment tools the user can leverage to assist in hiring the most qualified candidate for the role. Overall we appreciate the evolution we see in this platform and we predict the future of CRMs will share must in common with the suite of offerings Beamery brings to the table.
Price: Around $75 per use per month, price varies
Avature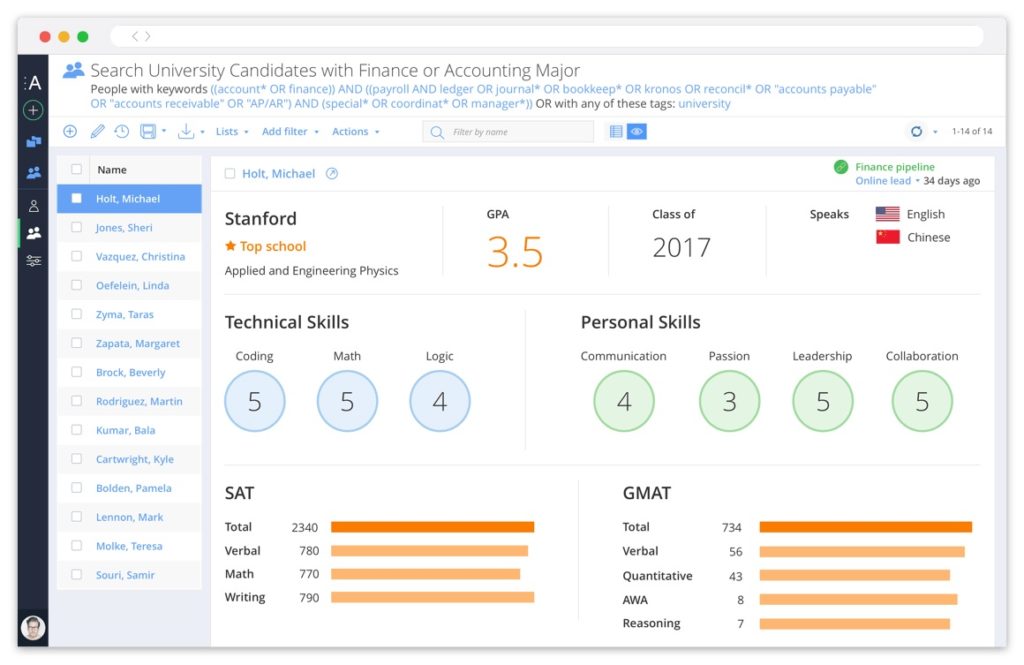 Their claim: Avature HCM SaaS solutions are designed for Strategic HR initiatives in recruiting and talent management.
Tools to develop a talent community
Performance management
Onboarding
Referrals
Manages recruiting events
Tools to source social media like LinkedIn and many other and easily upload.
Has a very good blog, user community, and webinars for user
I've been an Avature user and implementor working as an in-house sourcing leader. It continuously evolves but is not the most innovative CRM on our list. Most of the companies who adapt Avature are large with a large to very large recruiting budget, an in-house sourcing team with dedicated sources, and a well-established employment brand. If you have high volume sourcing and recruiting needs ranging from hourly to executive recruiting, Avature should be a tool to consider.
Price: Varies per the company size and number of users, most expensive on our list

SmashFlyX (recently acquired by Symphony Talent)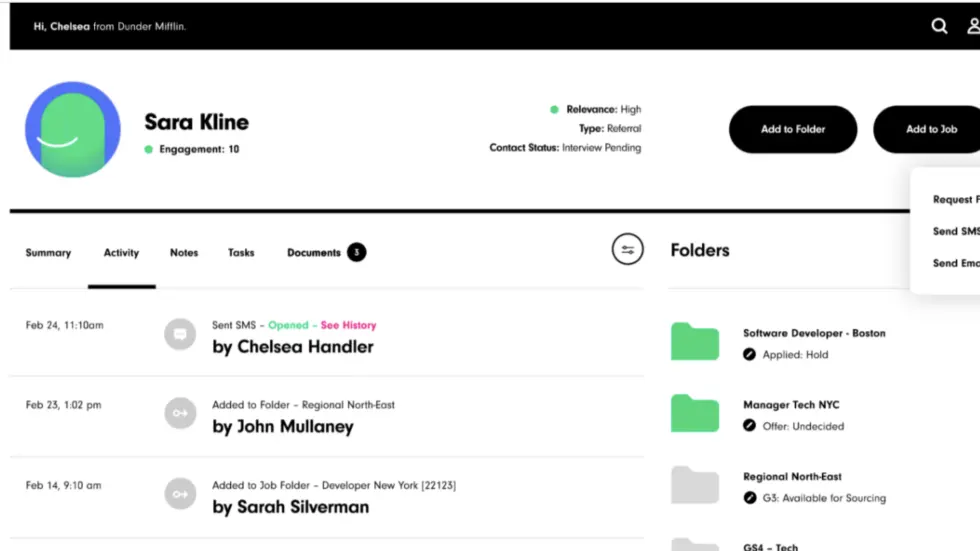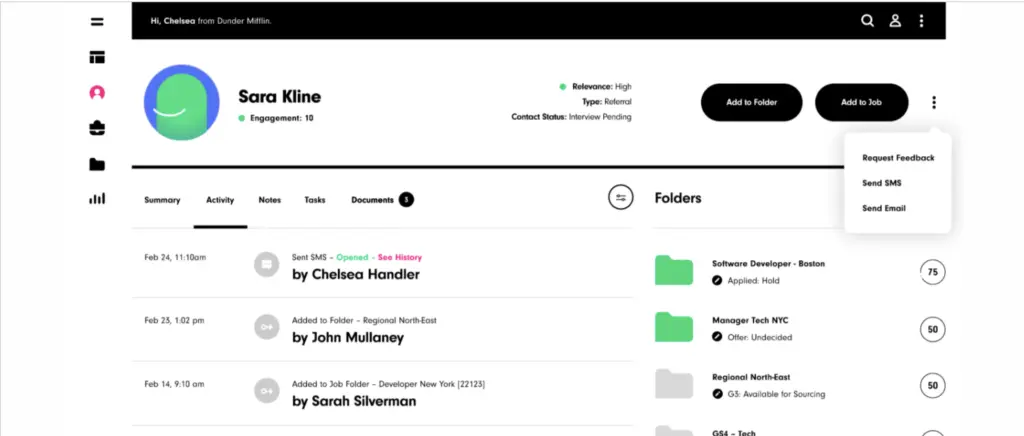 Their claim: Technology built for the talent lifecycle. Powered by AI, SmashFly's talent marketing platform combines a recruiting CRM, career site, recruiting event management, referrals, and analytics solutions to create a smarter, seamless experience for talent – and your team.
Excellent search functionality
Sourcing tools like resume parsing
Event management, referrals, and analytics solutions.
Our favorite in developing a talent community (or network) and allows you to collect data from potential candidates from online or in person interactions.
Easy to post jobs to various social media sites and job boards
SmashflyX offers leading tools for developing a talent community and creating and talent profile of a candidate. I find this tool would be best for executive recruiting or recruiting that requires talent from high demand, short supply candidates. Like Avature, companies who find the most success using this product have a fairly large recurring budget, engaged group of recruiters and an established employment brand. If your company is going to demo Avature, you for sure need to consider SmashflyX.
Price: After you request a demo, you will be given a custom price for your needs. Price is comparable to Avature

Hubspot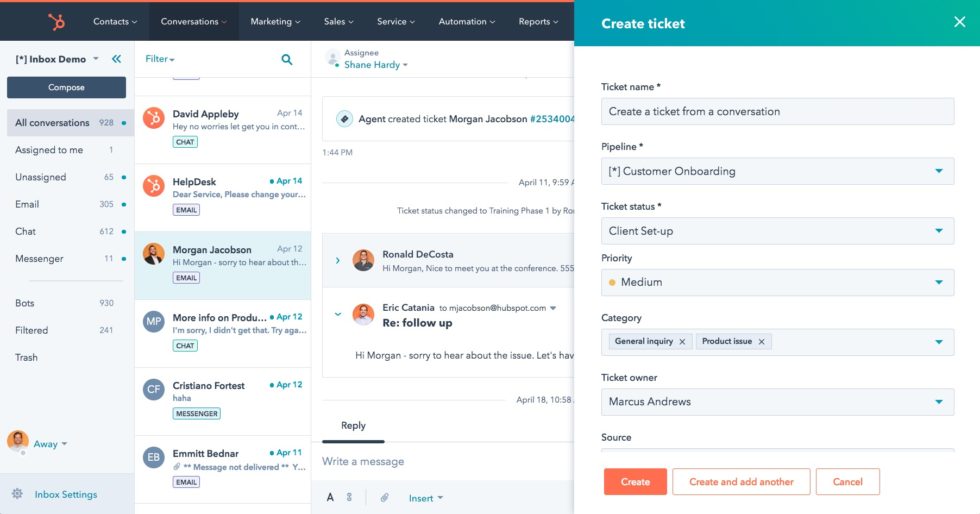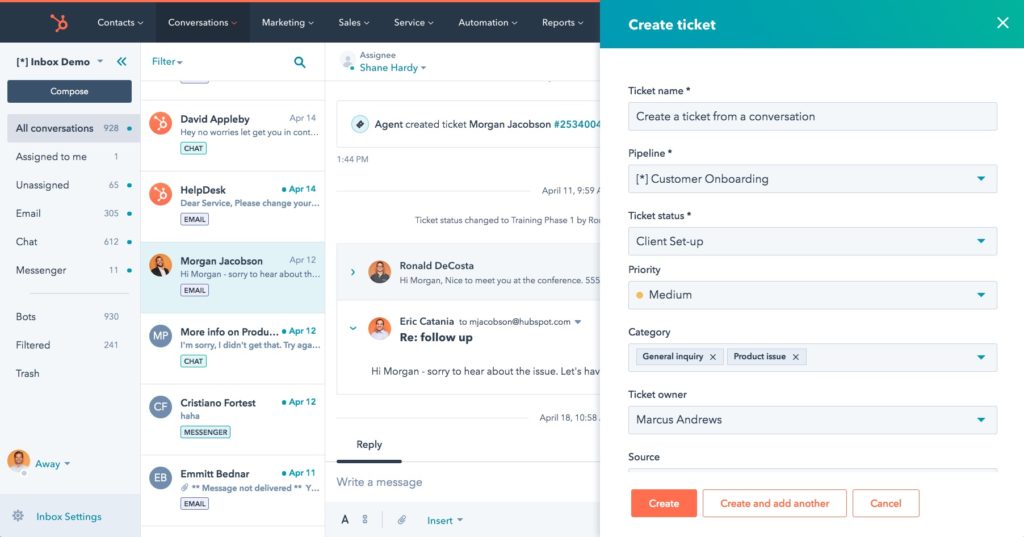 Their claim: Whether you want to increase leads, accelerate sales, organize your contacts, or better serve your customers, HubSpot has a solution to help you grow.
Secret: It's what we use at RecruiterCentral
Tools you need to run inbound and outboard marketing campaigns
Lead scoring for candidates and clients
Task management tool and marketing automation tools
Time saving tracking and scheduling tools
Love their blog, loaded with industry trends and user information
Hubspot is going to be your best solution if you're a smaller agency or sales company. It's got a very entrepreneurial feel when using if you want to grow traffic, convert leads and more.
Pricing: The Most affordable Recruiting CRM on this list, starting at free, yes free! The Starter tier is $50 per user, per month, the Professional tier is $80 per user, per month, and the Enterprise tier costs $120 per user, per month.