Many recruiters and hiring managers are learning how helpful and time-saving AI (Artificial Intelligence) has become within the recruiting industry. What once was tedious, time-consuming tasks are now fully automated with the assistance of AI tools.

"AI will analyze hundreds of variables across millions of companies to define the right targets at a scale not possible in any other way. It will also analyze candidate data and deliver a wide range of candidate pools based on sophisticated scoring techniques. All of this occurs in real-time, so recruiters get immediate results."

Instead of hunting through endless websites and resumes to find the perfect candidates for your job openings, you can put these tools to work for you. Here are a few of our top picks.

Top 3 AI Sourcing Tools

1. Upsider – A Recruiting Management System (RMS) that helps recruiters and hiring managers to find talent faster, increase productivity and nurture candidates using their AI system.

Through their data platform, you can add your projects to the workspace and then search for job candidates using their system. You can filter your search by location, title, education, skills, keywords, and other variables. "Upsider integrates all talent data to provide a real-time and unified view of talent pool coverage."

Then, their results provide a percentage of how much a person matches your job criteria so you can decide if you want to add them to your project or not.

So, how does it work? "Upsider's AI engine analyzes roles and business signals against over 100 million candidates and 7 million companies to return real-time match results based on skills and experience." And then, it "uses thousands of data points to determine the total addressable market of candidates that align with your role and business."

However, you have full control over the inputs so that you can "expand the candidate results based on changes to requirements."

With Upsider's management system, it's very easy to keep all your job candidates organized. It's really helpful to see the actions that you have already taken and the actions that need to be taken so you know where to focus your attention. You can also drag-and-drop candidates between campaigns and share prospective candidates with members of your team or hiring managers.

You can also manage your campaigns through Upsider's messaging platform, using their email system to easily communicate with job seekers. And because you have access to their entire profile, you can personalize, customize, and target your emails to increase your response rate. Upsider also helps you to optimize your performance and "employ A/B testing, track campaign performance, and identify best practices and areas for improvement."

To see Upsider in action, you can request a demo here. Learn more here.

2. Recruit Robin – An AI system that works in three steps to help automate part of your hiring process and give you more time to work on more important tasks and projects.

What makes Robin different from other AI tools is that their "automated tool only requires a job description, users do not require any sourcing knowledge such as boolean search or X-ray searching techniques to find relevant candidates."

Robin's 3-step process makes it easy to source candidates:

Step 1 – Share your job description and indicate the most important elements for Robin to source. Within a day, you'll have your results.

Step 2 – Through "A.I. sourcing technology and self-learning algorithms," Robin scours multiple platforms and websites to find the ideal candidates and then pre-screens them for you.

Step 3 – You can connect Robin to your ATS system or download an Excel spreadsheet with a list of the job prospects. Each candidate's profile includes their personal contact information so you can reach out directly to them via phone or email.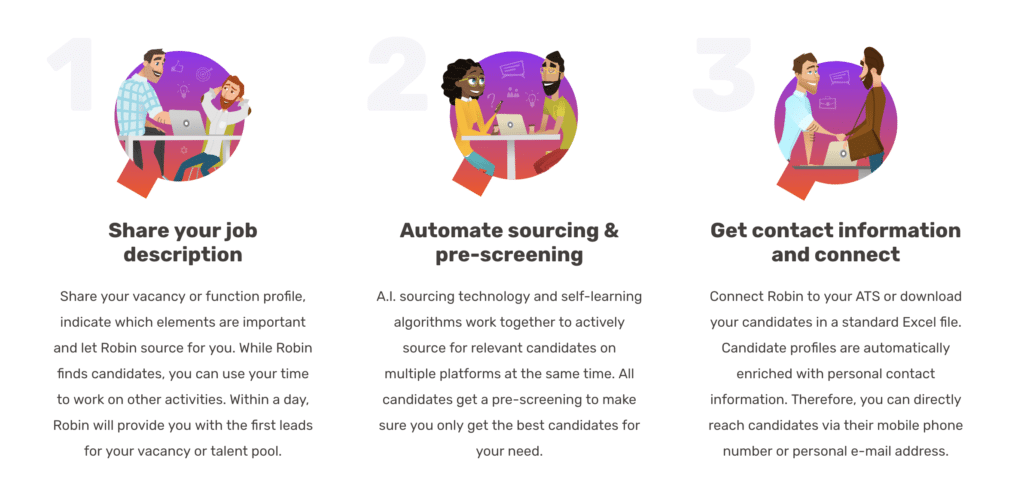 You can sign up for a 7-day free trial or choose one of their paid plans. To see Recruit Robin in action, you can request a demo here. Learn more here.

3. Aevy – An automated AI system for outbound recruiting. You can add the extension browser from the Chrome store here.

Aevy focuses on the ideal candidate that you're searching for by using a 4-step method:

Step 1 – Specify your ideal job prospect that you want to reach.

Step 2 – Once Aevy provides you with your results, approve which ones you would like to connect with.

Step 3 – Create email templates to communicate with candidates. You can use Aevy's team to help you compose these templates. You can also use A/B testing to see which messages work better than others. Aevy also tracks when and how people read, click, or respond to your emails.

Step 4 – Automatically send emails and follow-ups to your talent pools. Aevy uses your email provider so all responses go directly to your inbox. You can also control the speed of Aevy so you only get a certain amount of replies per day. Aevy claims "cutting-edge email address verification technologies" for a 97% deliverability.

To see Aevy in action, you can request a demo here. Learn more here.

It's never been easier to use AI right at your fingertips to help source the best talent for your hiring managers.

Resources: